Leadership Voice:
Andy Salisbury
Vice President, World Connection
Work-from-Home programs (aka, remote-agent workforce, among other names) had been steadily increasing in popularity and acceptance in recent years. The COVID-19 pandemic has only increased this exponentially. Before, it was a way to decrease overhead and open your pool of agent candidates to skill sets no longer limited to one geography. Today, it has become a necessity in this age of shutdowns and socially distanced offices.
Work-from-Home (WFH) always came with obstacles to overcome: compliance with security standards created for in-person settings (e.g., PCI DSS), balky technologies and overtaxed Internet bandwidth, and an employee workforce no longer personally supervised (or, perhaps, motivated). Many clients had long been skeptical of the efficacy and productivity of WFH agents but, in 2020, had to grudgingly accept the new abnormal.
Forced by the pandemic to quickly transition the workforce to a home setting, many call centers (inhouse and outsourced) were left to prioritize these obstacles as best they could. Technology solutions were pieced together to provide access (e.g., BYOD), while network bandwidth was stretched to or beyond its limits. Good solutions for real-time, network performance monitoring existed but were, in many cases, pushed down the road, as getting up and running was the immediate priority. Compliance was second. End-to-end solutions could wait. The employee workforce was usually a distant third, to be addressed with a soon-to-come, top-down solution that, often, was not in sight.
The early days of the pandemic shutdowns were often a nightmare for clients, vendors, and customers alike. Those who had existing WFH platforms and experience had a huge advantage over those new to the game. Those who threw quick solutions at each obstacle often found themselves with a mishmash of mismatched technologies or processes that could cost more to fix than they had to set up. 
But those who were able to plan for all obstacles found their footing on a sustainable path and were able to differentiate themselves.
World Connection's solution was to invest in a suite of software products that would cover all areas of protection, performance, productivity:
A remote-access authentication component, also capable of providing real-time network performance data
Activity monitoring software to capture employee screen activity and network usage
An employee workspace-monitoring system to maintain a PCI environment and increase overall productivity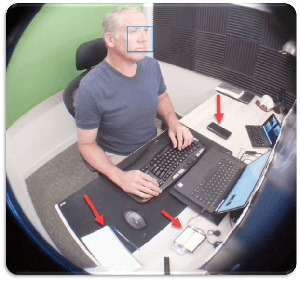 Access authentication software is a given for a well-maintained network, as is a network-performance component. Activity monitoring software has also become routine, especially in larger companies, or now, those with remote or WFH workforces. These cover the protection and performance aspects of the obstacles. It was the employee-workspace monitoring component that tied everything together with a novel approach to compliance and employee productivity and assuaging client concerns of the WFH approach. World Connection was an early adopter (and investor) in the product, seeing it as the game changer for clients uncertain over WFH.
Equipped with cameras and built-in AI programming, this system monitors at-home agents' environments for PCI compliance, taking a photo every 60 seconds (or a timing of our choosing). AI parameters can be set to monitor for high-risk activities, keywords, or websites and alert us to their presence. Once flagged, supervisors can immediately chat with the agent and the system automatically stores all photos and chats. Able to scan for and detect the presence of a cell phone, pen or pencil, other people in the room, or the wrong person at the desk (via facial recognition), this system gives supervisors "in the room" access. Now management can see not only what is on the screen, but what the employee is doing, what else is on the desk, and what distractions might be in the room. Supervisors or leaders cannot dedicate their entire day to just monitoring. This employee work space monitoring solution spots the offending activities and alerts supervisors, making the best use of their time while being far more effective.
This solution also proved to increase productivity, by allowing the agents to have morning huddles with their supervisors, ask questions through the built-in chat feature, and simply confirm that they are at their desks doing their jobs, and not watching TV or viewing Facebook or YouTube on their phones. One of our first clients we protected with our solution, Quicken, found that productivity increased by over 10% in the first month of utilization.
It is through the use of our three-component suite of software products that World Connection was able to overcome the hurdles of WFH —protection, performance, and productivity. It provides the peace of mind to clients in all aspects of their business — not only over IT security and network/tech performance, but also the security of the physical space to ensure compliance. It even overcomes client apprehension over agent performance from a productivity perspective, eliminating their fears of the loafing agent watching TV.
It's the overarching coverage of our comprehensive suite that has encouraged clients to grow their WFH programs with us, even as they anticipate a post-COVID atmosphere.